Happy New Year! Today is Monday, January 5, 2015 and for many of us it's the first day back to work after taking a few days off to celebrate the holidays and New Year. A New Year means new things and many of us set New Year's Resolutions aimed at bettering our lives. Did you make any New Year's Resolutions? A study from the University of Scranton reveals that only 8% of people that make New Year's Resolutions are successful in completing their goals. Furthermore, studies show that big, ambiguous goals may provide a brief surge of motivation but when that fades people end up feeling worse. Trying to transform one's life, all at once, is not very realistic and for those reasons I don't think we should make New Year's Resolutions. Instead, I contend that we should focus on establishing personal goals that align with our future plans and dreams. The good news is that If you've already failed at one of your New Year's Resolutions or if you're still trying to figure out what you want accomplish in 2015 here are four ways you can establish goals that will allow you to better yourself and create a happy and more fulfilling life in 2015.
Word of the Year:     I've created a word of the year for the past three years and each word I have chosen has set the tone for my year. A word of the year serves as a guidepost or overall theme for one's year. When establishing a word of the year, one should choose a word that:
Is personal and related to what they want to do, accomplish, achieve, experience or become in 2015.
Be ONE word (REMEMBER it's called a WORD not WORDS of the year)
Be clear
Word of the Year Tools:
My word of the year for 2015 is OPTIMIZE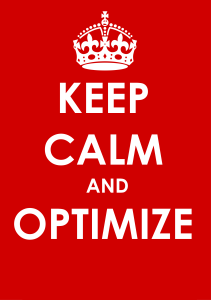 Letter to Self:     A letter to self is great exercise for those that may not have identified what goals they want to accomplish in 2015. It is also a creative way for one to reflect on what they hope to accomplish this year by writing a letter to self that looks at 2015 from a place of having achieved their dreams and goals for the year. When writing a letter to self it should be dated to yourself from the future, e.g., January 5, 2016. Letters to self can also be a personal thank you note in which the writer thanks his/herself for all the steps he/she took to achieve their goals in 2015.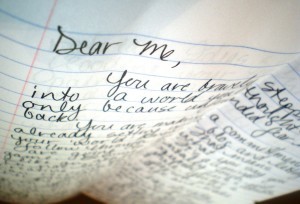 Shorter Goals:     Committing to do something for an entire year can be very daunting. Instead of stressing one's self out with a large, lofty goal I recommend making shorter goals. The 52 Week Money Challenge is an example of how someone with a New Year's Resolution or goal to save more money in 2015 can shorten a large, lofty goal of saving into something very easy and manageable. The 52 Week Money Challenge is easy and manageable because one simply saves the dollar amount that corresponds with each week of the year. Participants in the 52 Week Money Challenge that save the correct amount every week will have saved over $1,300 by the end of year.
Another option is to stick with a broader goal but make it attainable by establishing specific, shorter tactics for each month or a set period of time that will help one accomplish their broader goal. I have a goal of being HEALTHIER this year which sounds very broad. I've implemented a few tactics for the first quarter of 2015 that I believe will allow me to achieve this goal:
Weekly weigh-ins and check-ins at Midwest Weight Control Center and following the meal plan provided by their nutritionist
Working out a minimum of three times a week and weekly workouts at Bodies by Burgoon
Resetting my internal system by eating Whole 30 foods for the month of January
In March, I will create tactics for the second quarter of 2015 that I believe will lead to me accomplishing my goal of being HEALTHIER in 2015.
Tools for Setting Shorter Goals:
Vision Board:     Vision Boards are my favorite way of establishing my goals and dreams for the year. A vision board is a collection of images and phrases that state and inspire one to pursue their goals and dreams. Visualization is a key component of one's personal success and vision boards are a creative way to visualize one's desires and accomplishments for 2015. Vision boards can be made in a variety of formats- poster board, electronically and notebook or scrapbook. This year I purchased a canvas from Jo-Ann Fabric and Craft stores which gave my vision board a more sturdy foundation and artistic appearance.
Should you decide to stick with traditional New Year's Resolutions or implement one of the Alternatives to New Year's Resolutions discussed in this post I wish you a joyful New Year filled with happiness, accomplishment of goals, success, peace, love and abundance…HAPPY NEW YEAR!