My week started with a text from one of my dearest and closest friends.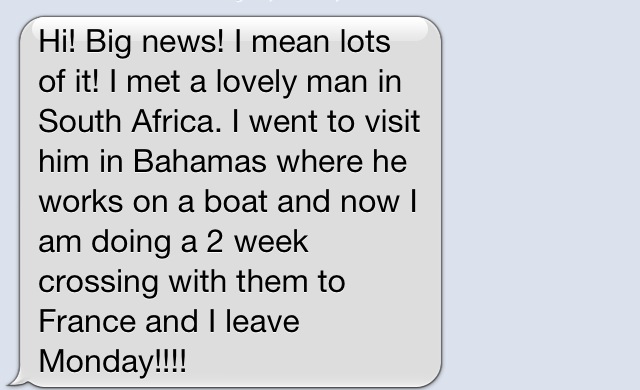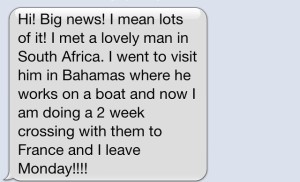 After reading it I screamed "WHAT… a man, a boat, a two week crossing of the Atlantic Ocean and France!"  That kind of text requires an immediate phone call and even though it was before 8 AM I decided to break my "No Calls Before 8" rule and call her to get the tea*!
Now it might sound as if my friend was being really adventurist agreeing to sail on this boat (actually it's a yacht) for two weeks while it crosses the Atlantic to dock in Cannes, France with a man she met a little over a month ago. I'll agree to that but knowing my friend and her back-story; I'm declaring that my girl is COURAGEOUS!
She is courageous because she has opened herself up to possibilities without being fearful, when she really could be. While we were roommates in Antibes, France (the city with the largest yacht marina on the Côte d'Azur). She met and fell in love with a wonderful man that worked on boats. She loved him so much she decided she would stay and work on boats too. Eventually they got married, sailed and traveled around the world, bought a beautiful home and lived a very loving and fulfilled life together. Unfortunately, he died in a tragic accident on a boat.
My friend's life came to crashing halt and in my opinion she lived in what I call a pseudo purgatory state (a state of grief, disappointment, hurt and confusion) for a few years while she tried to rebuild her life without the wonderful man she shared her dreams, love, plans and hope for the future with. As Iyanla Vanzant would say, "she did the work" and now she has once again found happiness and peace.
I  declare my friend courageous because she is allowing herself to be open to the possibilities of love (and the Universe) again and what is even more powerful is the fact that she is willing to experience "love on a boat" again. After the experience she had with her first husband I know many would have vowed to stay away from boats and especially men on boats because they don't want to relive memories or because of the risk averse tendencies that are a part of human nature.
This week I happened to stumble upon this TEDx by Patrice (Afrobella) Grell Yorsik (http://tedxtalks.ted.com/video/Make-Your-Own-Runway-Define-You) in which she eloquently states that "courage leads to opportunity."
I believe that it also takes courage to Carpe Diem. I find that many people are not open to the possibilities of life. They aren't open to "unplanned" experiences and opportunities. At times they can't see the forest for the trees. A part of seizing the day is being open to the possibilities and opportunities that the Universe sends.
My friends do you have the courage it takes to Carpe Diem?
Carpe Diem
"All that is ever required is for you to just have the courage to be you, and when I mean you I mean all of YOU."
~ Panache Desai
*Tea as defined by www.urbandictionary.com:  gossip or personal information belonging to someone else; the scoop; news