Every year millions of American families come together for Thanksgiving. It's a holiday filled with food and family recipes but more importantly Thanksgiving is an opportunity for us to give  THANKS and celebrate our blessings with family and friends. Simply stated Thanksgiving is about GRATITUDE. Here are few creative and engaging ways to express gratitude during your Thanksgiving festivities.
Gratitude Tree
A Count Your Blessings Tree is another way Thanksgiving guests can capture what they have to be thankful for.  Guests can write what they are thankful for on the tree or they can use these creative circles to decorate their Count Your Blessings Tree.
Place Cards
If you use place cards for your table setting add something special by incorporating a reason why you are THANKFUL for the designated person on the place card. There are great templates for Thanksgiving place cards on Pinterest. Place cards are a great personal touch that don't require a lot of effort!
Thankful Crescent Rolls
A Thanksgiving meal isn't complete without a bread basket. Add a hand written or typed expression of gratitude to your crescent rolls before you bake them and your guest will be pleasantly surprised. It's better than a fortune cookie!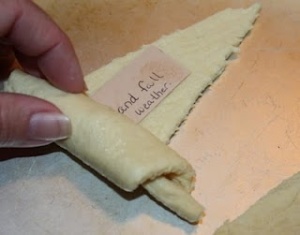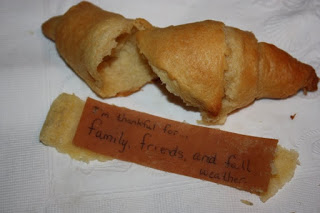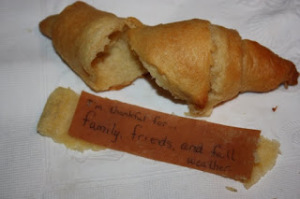 Thankful Turkeys
If your family is like my extended family we typically have a "Kids' Table." Thankful Turkeys are a creative way to get your kids to reflect on what they are THANKFUL for plus, it will keep them occupied while the adults talk.
I used dessert size paper plates brushed with glitter paint as the turkey body. Feathers were made from construction paper and the face was made used clothes pins, googly eyes and pipe cleaner. Thankful Turkeys are a great keepsake and can be used as decorations next Thanksgiving.
When I count my blessings I'm thankful for your continued support! I truly appreciate you taking the time to read my blog and to share your personal experiences, comments and opinions. I have some EXCITING things planned for the holiday season. So stay tuned for updates. Wishing you and yours a WONDERFUL Thanksgiving filled with gratitude, love, happiness and yummy food…THANK YOU for being you!