One of my childhood Christmas memories is going to Rich's in downtown Atlanta with my mom to take my picture with Santa Claus and to ride the Pink Pig.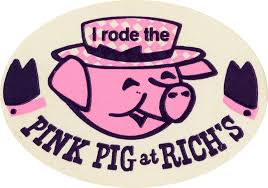 Rich's is now a part of the Macy's family and the downtown Atlanta location is no longer open but Macy's continues the Pink Pig tradition and has started a new tradition called National Believe Day in partnership with Make-A-Wish. National Believe Day aims to inspire Americans to spread the spirit of generosity during the holiday season.
The Macy's Believe campaign invites kids of all ages to bring their stamped letters to Santa to their local Macy's store; in fact, some Macy's have  a designated area where kids of all ages can write the letter for Santa. Letters can even be sent online.  For every letter received now through Dec. 24, Macy's will donate $1, up to $1 million, to Make-A-Wish. For National Believe Day, Macy's is offering a double donation – for every letter received in-store and online on Friday, Dec. 12 only, Macy's will donate an additional $1 to Make-A-Wish, up to an extra $1 million, above the existing $1 million campaign goal.
In the spirit of spreading generosity (and thanks to a partnership with Macy's) this holiday season I'm giving my readers a special BELIEVE holiday package this holiday season! Simply share how you plan to Carpe Diem this holiday season and you could win! I'll select and announce the winner on Friday, December 19th.