Like many in the Twin Cities I've patiently awaited the opening of the Smack Shack in the North Loop of Minneapolis for over a year.  I was hooked the first time I had the shack's Lobster Mac & Cheese, Lobster Roll & Shrimp Po Boy at the 1029 Bar. After months and months of opening delays the Smack Shack FINALLY opened on February 5, 2013.
An after work call from a "starving" friend on Wednesday provided the perfect opportunity to try the Smack Shack out in its very own brick and mortar location.  YAY!!!  Dara arrived around 5:50 PM and was told there was an hour and a half wait for the dinning room. She did a quick walk around in their very spacious first come first serve bar area and there were no open seats. When I arrived at 5:55 she suggested that we go across the street to BLG. NO WAY…not that I don't love BLG, it's just that my taste buds were craving lobster mac & cheese and seafood. I decided that we should do one more walk through through the bar area and as the universe would have it there were two open seats. All we had to do is to ask two guys sitting at the bar to scoot down one spot so that we could sit together. I asked and they obliged. SCORE!
We mulled over the wine list and cocktail menu before deciding on our beverage choices for the evening. Dara had a a glass of red wine and I tried a Cucumber Cocktail from their impressive cocktail menu. We immediately decided on having the Lobster Mac & Cheese and the Lobster Corndogs as appetizers. After a recommendation from our server/bartender, Danielle, Dara decided to try the Southern Fried Chicken and I ordered the Lobster Boil, Lazy Susan style.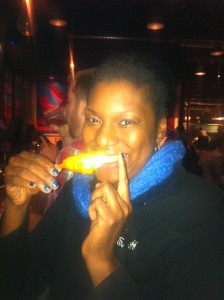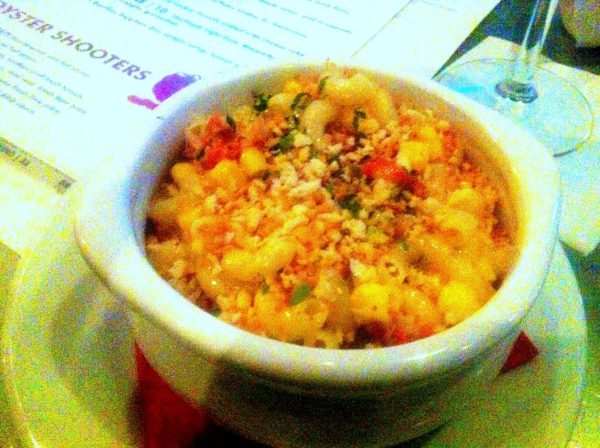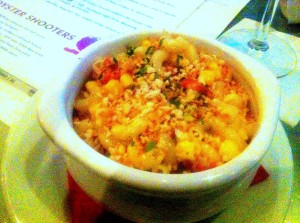 The Lobster Mac & Cheese was DELICIOUS.  I think the sweet corn is nice add to the Smack Shack's recipe. The Lobster Corn Dog was decent in my opinion. Dara really enjoyed it. I'm not a huge fan of things other than hotdogs being dipped in cornmeal and deep fried. I think the bias stems from my tenure at Hot Dog on a Stick.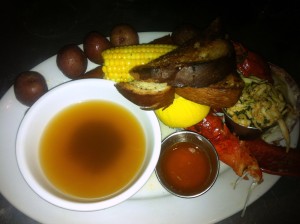 Although we ordered our entrees together they didn't arrive at the same time. My Lobster Boil, Lazy Susan style arrived first.  At first glance I was confused by its appearance. I'm from the south and I grew up attending low country boils and I've attended my fair share of " boils" in the NE too. My plate had all the components of a "boil" but they weren't put together and that was disappointing. Even though there was a side of broth the bowl wasn't big enough to put all the lobster boil components in at one time and allow them to absorb the flavor & seasoning that typically would provided by the broth. Additionally, I was paying an extra $2 to have the "tail removed, claw and knuckled crack," which didn't happen. The lobster had been cracked., but not thoroughly cracked…I still had to ask for crackers and the meat was still inside the tail shell. The tail had been butterflied but from the Lazy Susan description I was expecting for there just to be lobster tail meat.
Dara's Southern Fried Chicken was very tasty (because it arrived late I forgot to take a picture). The menu fails to mention it but, being a true southerner I noticed that it's actually buttermilk fried chicken which really adds to the flavor profile. Because our server mistakenly misspoke and said the chicken was served with biscuits she sent over complementary cornbread which was also very tasty.  It's made with jalapeno bits and they provide a nice amount of "heat."
I did express my disappointment with my meal to the manager on duty, Dez and she was very understanding and sympathetic.  She  sent over complimentary bread pudding for dessert which we did enjoy.
Although my meal was not 100% satisfactory I'm going to give the Smack Shack another try. I was there on day 5 and I'm sure they need a little time to work out all the hiccups and menu descriptions.  WE SHALL SEE!