Summer in Minnesota is often referred to as patio season. Everyone from family, friends and neighbors gathers around and hangs out with their favorite adult beverage in hand. My favorite thing though during this time is to make mocktails along with cocktails! I never want anyone to feel left out! Mocktails, faux cocktails or non-alcoholic craft cocktails are one way you can make sure everyone has something fun and tasty to enjoy on warm summer days like today! Of course, I had to add a twist here so I'm giving out some tips and tricks on how you can elevate those non-alcoholic beverages and turn them into the summer's best, delicious, refreshing mocktails! Let's go!
Elevate Your Glassware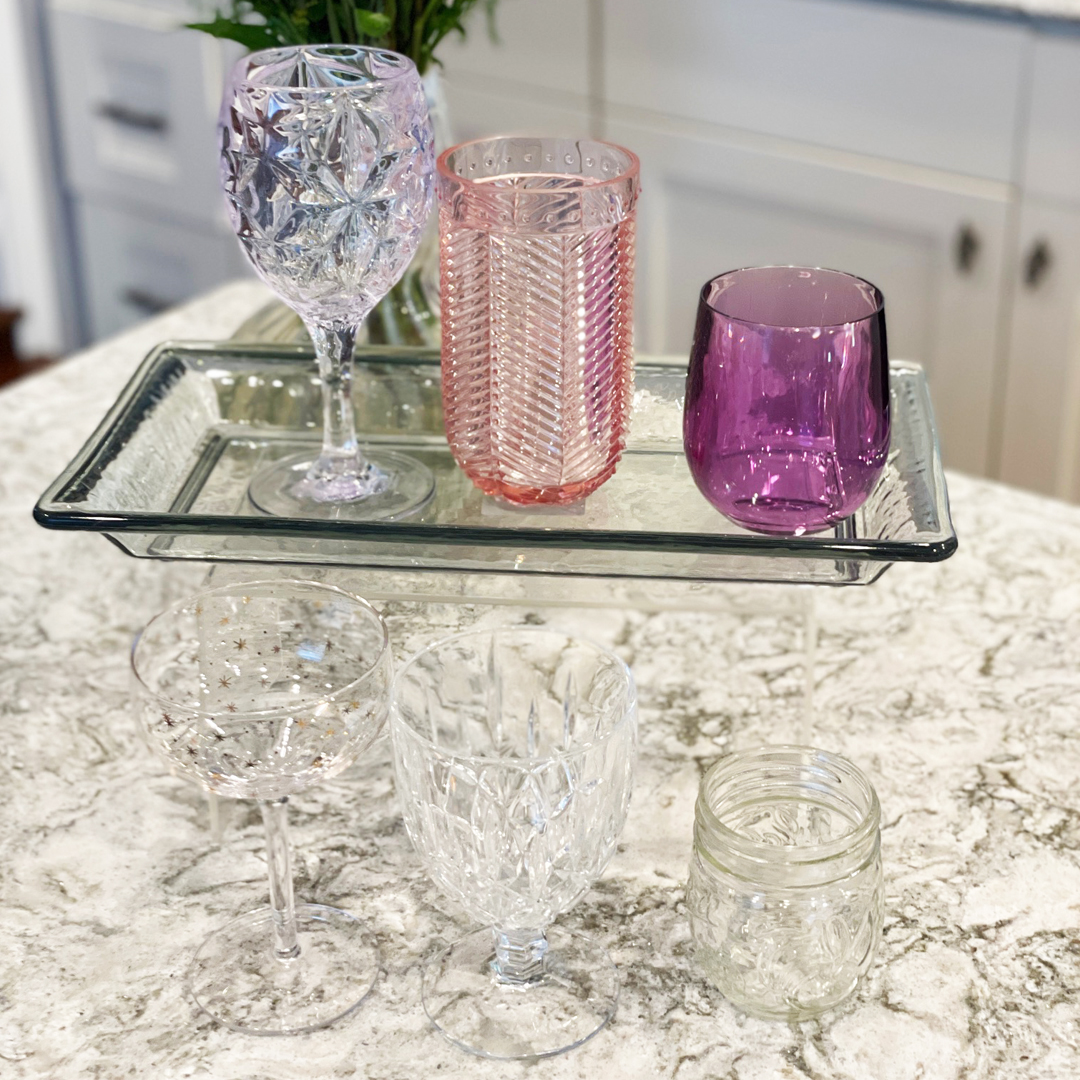 Most cocktails when ordered at restaurants come in cool glasses that help provide the right vibe for that drink. Using cool, fun glasses will really help you and your guests or loved ones to feel like they are getting that real cocktail experience. Using melamine is a great option! Being that my 007, Roger, is a farmer I always have mason jars lying around and I love finding fun, new ways to use them and this is one of my favorite ways! If you have the appropriate glassware use it! Match the drink to the recommended beverage. For example, if you are making a Moscow Mule, use a copper mug! For Mojitos use a collins glass. If you do not have the appropriate glassware, no worries! Just use the fanciest option you have or like I mentioned before use a mason jar! To give it a fancy touch use lemon juice to put salt or sugar around the rim. My favorite seasoning to use to rim the glasses with Trader Joe's Chili Lime Seasoning! It's delicious!
Use Fresh Ingredients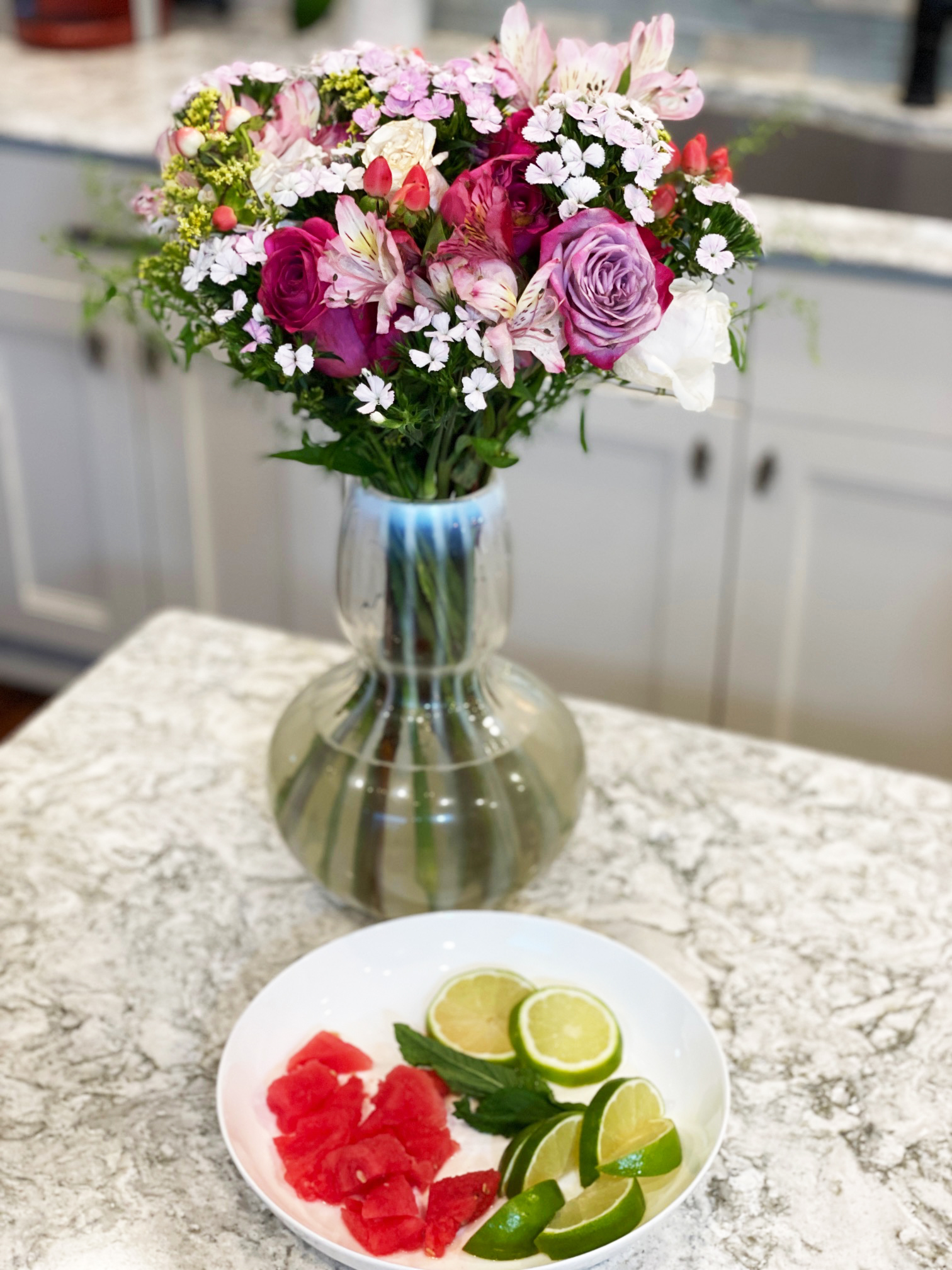 The key to any mocktail or cocktail is fresh ingredients and the fresher the better! Summer is absolutely the best season for using fresh ingredients in cocktails and mocktails. Maybe you have a garden in the back with fresh herbs or fruits in season or you love visiting the local farmers market for seasonal goodies, either way summer is a great season since all of those delicious berries and fruits are in season. If you can make things fresh even a simple syrup that is made fresh will make your mocktail stand out! Simple syrup is great because you can always put your own little twist on it and infuse it with lavender or elderflower!
Here are a few recipes for some mocktails I love to make during summer to get you started!
Cucumber-Mint Ginger Agua Fresca
Aguas frescas originated in Mexico and are amazing and fresh. The name agua fresca means fresh water in Spanish. These can come in a variety of flavors or be changed to suit your taste. Simply muddle some fresh mint leaves into water and add in cucumber, fresh lime juice, a bit of sugar and some fresh ginger and you are ready to go! For a twist add sparkling water if you want bubbles. To turn this one into a cocktail I suggest using champagne or tequila! This is the perfect drink for a hot summer day!
Virgin Watermelon Sangria
I love how super simple and easy this is to make! Combine 3 cups of chilled, cubed watermelon, 1 sliced lime, ⅓ cup torn mint leaves and a bottle of chilled sparkling grape juice and stir! This usually serves about 5-6 people and is a real crowd pleaser. For adults that would like to make it a cocktail simply add tequila or wine and enjoy!
Frozen Peach Bellini Mocktail
I couldn't end this without a nod to my home state of Georgia who have the most delicious peaches this time of year! A lot of grocery stores and farmers markets have these in right now so pick some up, you can thank me later. Blend the peaches with a little sugar and apple juice and you have yourself a treat. I again love to add a touch of the Trader Joe's Chili Lime seasoning to the rim. The sweet, spicy and salty flavors all go together so well. To make it an adult beverage simply substitute the apple juice for champagne.
Those are some of my favorite recipes for summer mocktails and cocktails! Remember you can play around with the ingredients and how much you put in to customize these beverages to your liking! Get creative! For more check out my segment on WCCO here! Remember to stay safe, do not drink and drive and always carpe diem!