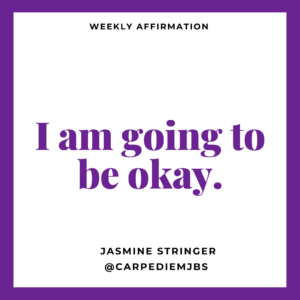 Do you ever feel anxious? If you haven't felt uneasy, nervous or worried over the past 45 days, I tip my hat to you in admiration.
I feel like this pandemic has turned the world upside down. At times I get ahead of myself thinking about what the world will be like when this is over, what norms will return and what customs, habits and ways of operating are now a way of the past.
Or I receive a link to an article with a reminder of how much is unknown about COVID-19.
Or maybe I reach out to a friend to simply say hello and I end up listening to them lament about their anxiety, fears and stresses. Whatever it is, it triggers anxiety.
We are all grappling with the unknown. But what I do know is that it will be OKAY. Before this pandemic whenever I felt overwhelmed by a problem or situation I would remind myself that "I am going to be OKAY." It's amazing how much the personal reassurance calmed me and helped me push through whatever I was dealing with to reach the other side.
John Lennon said, "everything will be okay in the end. If it's not okay, it's not the end."
Bob Marley sang, "don't worry 'bout a thing. 'Cause every little thing gonna be all right."
And the Apostle Paul wrote, "we know that all things work together for the good for those who love God and who are called according to his purpose."
So this week I am affirming and reminding myself that I am going to be okay and I want YOU to know that YOU will be okay too!