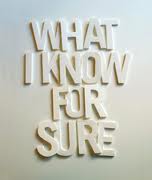 What do you know for sure, sounds like a pretty simple question, but when one really takes a moment to reflect on the true meaning of the question it can provoke the need for one to pause and reflect. That's exactly what it did to Oprah Winfrey 16 years ago when Gene Siskal asked her the question, "What Do You Know For Sure," during an interview about the movie Beloved.
So many of us spend our lives operating at the surface failing to go ever really deep….to the core of our spirit; the essence of who we are and who we are meant to be; the place where our dreams, hopes and disappointments lie. The question that originally stumped Oprah led her to do a lot of thinking about what's certain, what's real, what's true and 14 years ago it became her monthly column in "O, The Oprah Magazine" and a source of inspiration, motivation and reflection for me. In fact, it's one of the first articles in "O, The Oprah Magazine" I read I receive my monthly subscription.
I was thrilled when I received an advance copy of the audiobook of What I Know for Sure from the publisher. Listening to Oprah read her essays with inflection, passion, understanding and humor was like having a personal conversation with her. The essays organized by the themes of joy, resilience, connection, gratitude, possibility, awe, clarity, and power made me laugh, cry, feel inspired and inquisitive. There really was something special garnered from hearing Oprah share her experiences and learnings in her own voice.
If you're looking for a little encouragement, reassurance or simply enjoy learning from others I highly recommend you purchase a copy of What I Know for Sure. It's a timeless book that will nourish your soul, feed your spirit and it's inevitable that you will start to think about what you know for sure!
I love hearing from you….have you downloaded Oprah Winfrey's What I Know For Sure? If so, what do you think? What do you know for sure?

A little EXTRA
I'm giving away a FREE copy of Oprah's What I Know for Sure. Enter to win below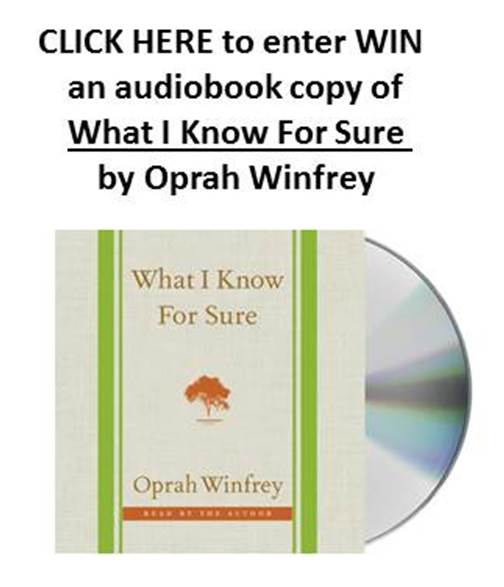 Here's a sample from Oprah Winfrey's What I Know for Sure audiobook. Click the quote below listen.