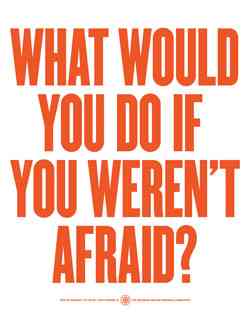 I read that question a few months ago while reading the book Lean In. At the time my response was I would ride roller coasters, go zip lining or try para-sailing. You see I have a fear of heights or what I refer to as a vertical challenge.
My life has been CRAZY BUSY lately…all in good ways (no complaints here). In the midst of working on a project in Chicago I got a call that one of my clients wanted me to manage/produce a screening for the movie 12 Years A Slave (A MUST SEE FILM) in Los Angeles. As I listened to the client explain the expectations and deliverables I thought, "WHAT, you want me to do what…..in LA? Are you sure about that?"
For the record I've never managed, produced, led or even worked on a moving screening, but looking back I realize I have the transferable skills necessary to manage/produce a screening. On top of managing/producing a screening they wanted me to do it in Los Angeles the HOME of movie stars (which I know none) and movie making. I wanted to say NO. Then I thought perhaps I could take on the project in a city where I had "connections" but after my mini anxiety attack and self-doubt conversation I was reminded that I'm on Faith Walk and that this Faith Walk that I've been on has not led me astray yet. So I put on my big girl panties and if I do say so myself I did the DAMN THING with the help of a great team!
I doubted myself and that doubt led to fear. I'm so proud of myself for not caving into the fear. I stepped up to the challenge and I was blessed with the resources and people to make the screening "FANTASTIC," according to one of the executives at Fox Searchlight.
Reflecting on last night's success I thought about how many times I've said no to things or didn't do something because I was afraid. For all I know I've allowed fear to prevent me from SEIZING THE DAY.
What would you do if you weren't afraid?
You just might CARPE DIEM!